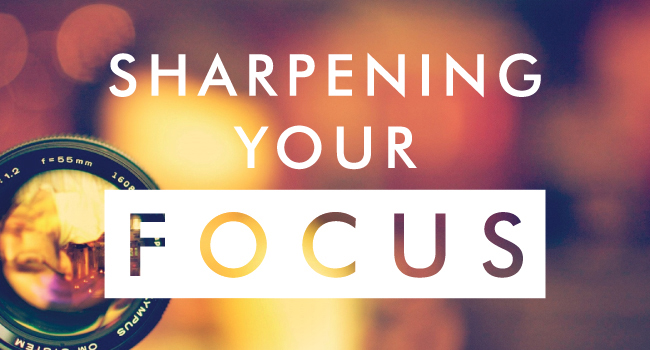 photo credit
Today, on a Monday, I'd love to talk about sharpening your focus. Mondays are always my busiest days, and need the most focus possible (which can be pretty hard to do, when you're coming off of a weekend full of fun).
When we give things focus, we get the most done, to the best of our ability. When we lack focus, it makes us feel pulled in a million directions. It's important when we're busy, or overwhelmed, to try our best to focus. Sometimes it doesn't come naturally, so I have some tricks that I use.
There are four ways that we can easily improve our focus right away. Heck, even implementing one of these will help you improve your focus! Here's my cheat sheet to getting better focus when things get blurry.
1. Give FOCUS Priority.
Make the goal of FOCUSING in, #1. Let go of your other pressures, or at least ease up on them for now. Maybe let go of knowing the latest gossip. Let go of being RIGHT in your inbox as the email comes in. Let go of the pressure to be perfect. Just let being FOCUSED be your number one goal for right now. Give it the respect it deserves and give it your attention.
2. One thing at a time.
The other day I posted an instagram, saying "Let go of anxiety as a lifestyle, or exhaustion as a badge of honor." I'd like to add a third thing – let go of MULTITASKING as a secret to success. Multitasking in it's simplest form is fine, but nowadays multitasking has gotten completely out of hand. Now multitasking is actually a surefire way to make sure you get almost NOTHING done. Focus in on getting one thing done at a time, and then knock out the next. Kinda like the snowball effect for tasks.
3. Write it down; make a list.
There is crazy power in pen and ink. I suppose you could use the computer too, but honestly a piece of paper works the best for me. I don't have to scramble to find it, or find the file to check it off. I also love that I can see all the things I've gotten done that day to really feel accomplished. Another perk to writing it down, is getting those thoughts out of your head. Getting your to-dos on paper gets them out of your head, and clears up room in there for you to be able to really focus on the PRESENT.
4. Give things their space.
Respect your tasks, and give them the time they deserve. Stop trying to work at break-neck speed. At first, give your tasks 1.5-2x the time you THINK they will need. Under-promise and over-deliver to yourself. Give yourself breathing room. You'll have the time to fully relax into what you're working on, and you know you'll have plenty of time to get it done, without worrying about the next thing on your list. If you finish early, it's time to go out and do something for yourself. Everyone wins!
Today I'd love to encourage you to try out one, or all four of these things, one day this week. Let me know how you feel that day! Probably super productive, and fresh! Woo hoo!

---
These are some basic steps. We'll be going into more detail on how to customize and best execute your focus in the Design Life Project e-course. Registration is now open, and this is the LAST week for EARLY-BIRD rate. There are limited spots to keep the experience personal, and we actually only have a few seats left. Go grab your spot!