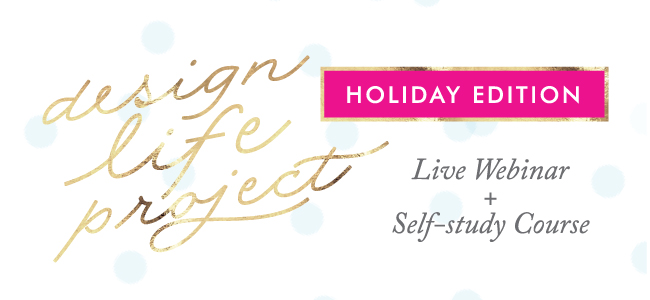 Who else is getting excited about the holidays?
(Okay, so who else is getting stressed out about the holidays?)
Who else wishes we could pause time and finish everything up and THEN we can start the holidays? Since we can't pause time, let's figure out how we can enter this holiday season balanced, happy and stress-free.
I'm thrilled to introduce this new package to all of you, Design Life Project Holiday edition! So many people have asked me when I was going to offer Design Life Project again. With lots of fun projects going on, I had trouble finding a place in my calendar for it. BUT I kept hearing feedback and seeing people who desperately need help in creating balance. My heart strings are tugged hard because the holidays are some of the HARDEST times of year and we ALL struggle with balancing them. They are a beast all their own in the balance department. So I came up with an idea – offer DLP as a self-study, but also add in another component – a LIVE webinar dealing specifically with balance during the holidays. To help really PREPARE ourselves for the holidays and getting our lives cleared out, to be ready to experience all the JOY the season has to bring. AND provide some help in getting prepped for 2015, with a clear and FOCUSED mind.
For a limited time, I'm offering Design Life Project HOLIDAY edition – for $99. This includes Design Life Project self-study edition (a $197 value) PLUS the live Holiday webinar with me ($25 value). All together a value of $222 for $99. The Holiday Balance webinar will be hosted on Wednesday, December 3rd at 11am PST. Can't make the live webinar? Don't fret – purchase also includes a recording to watch later! The self-study DLP course can be started right away, or you can wait until after the webinar to start.
Are you a Design Life Project alumni and you want to add in the live webinar to get you balanced + prepped for the holidays? See your private Facebook group or email me for a special code to purchase the webinar portion only. This offer is for alumni only.

Are you excited??? Me too! I can't wait to connect with you LIVE and help you with gaining some balance for the holidays and beyond.