the cure for creative burnout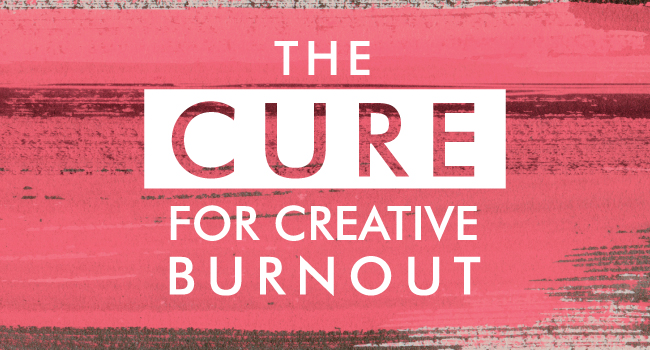 I was having a conversation with a friend who's a wedding photographer – and she was saying as much as she loves her career and business, some days it feels so predictable, and sometimes it feels like she's on auto-pilot. I know I've felt like this before. Goodness, I've been a graphic and web designer for over 14 years professionally, and over that time, even though some things have changed – a lot has also stayed the same.
It's easy to get too comfortable in your role and to start to feel unchallenged as an artist – or really as a person.
So is it creative burnout? I don't really think your creative tank is EMPTY. I think it's creative auto-pilot – I think there's lots of creativity still in there. Since I have been doing this for long, I've had to come up with new ways to make it fresh. Here's some of my ideas for you, if you feel like you're in a creative rut or that you're burned out.
1. Passion projects
This is my favorite go-to for when I feel burned out. It's almost like taking an old car out for a drive. I need a little recharge of my battery, and to push those challenging high speeds for a moment to remind myself that I can. Passion projects can be paid or not paid. Personally I prefer the paid kind (like passive income projects), but I don't always go that route. Sometimes I just devote my time and energy into a side project. Maybe it's planning an event, starting a community or group meet up, or maybe it's planting a vegetable garden. Maybe it's redesigning a room in your house, or maybe it's taking up knitting. Whatever it is – it takes you mentally AWAY from your bread and butter and allows you to use some under-utilized creative muscles.
2. Learning
This another favorite go-to: learning. I love to digest new information. I love learning about new experiences, new people, or new things. I love expanding my knowledge and feeling that ah-ha moment about something totally foreign to me. This can be cross-promotional (meaning it helps your career) or not. It can be totally something that has nothing to do with what you do. All that matters is that you are passionate about it, and like learning it. This can be a simple as reading a book, or as elaborate as planning a trip to attend a workshop or seminar. I try to make it to at least one workshop or seminar a year. I love travel in theory, but executing it takes some work with a family. Last year we did a lot of traveling, in prep for this new baby coming. So this year I'm doing more from home learning – which is totally fun too! As long as you feel like you're growing, that's all that matters.
3. Simplifying
This can be the hardest of the three – but sometimes it's most needed. Sometimes we need to EDIT. It may be time to prune your business or life. You could be burned out because you don't like your offerings – or maybe you like some, but not all of them. Now is the time to see what you love about what you do – and what you could live without. I'm a huge fan of narrowing your market and also your offerings. I'm also a big fan of saying NO and getting rid of things. When you get rid of things – it also makes more room for new things. I'm currently working on launching a new design offering (something that isn't out there right now but there is a huge need/market for) for Love-Inspired when I return from maternity leave – but it will mean me taking less business from another area. (To answer your question, I'm still not sure what I'm ditching – but rest assured I'll have to ditch something.) Try getting rid of the things you don't LOVE and filling that space with more that you do LOVE. Check out the YES list if you need a reminder of the things you LOVE.
Not sure if it's the weather, or the time of year, or a mixture of the two, but I hear a lot of creative people struggling with burnout right now. I'd love to encourage you today to share this with a friend (share buttons at the end of this post) who you know may be struggling with this. Try one or all of these ideas, and let me know if it helped your burnout!

---
Reminder – Create Passive Profits starts NEXT WEEK! I'd love to invite you to join us in the new 4-week long Create Passive Profits workshop, where I will teach you to take your ideas, talents and passions, and monetize them to create a passive revenue stream.
This is the very last week to register for Create Passive Profits – so snag your spot now to make sure you don't miss out!