it's here! register now for the create passive profits e-course!
---
Create a revenue stream that's not dependent on your time, and is tailored for the CREATIVE business entrepreneur.
Create Passive Profits is a 4-week, online course to help you develop a system to create passive income, so that you are no longer exchanging time for money. Create Passive Profits will help you identify profitable and passive revenue streams to add to your offerings, so that you can free up your time and energy for the things you love. Create Passive Profits will help you decide which information or products are perfect for creative entrepreneurs, how to develop them to their full potential, and start making profits RIGHT AWAY.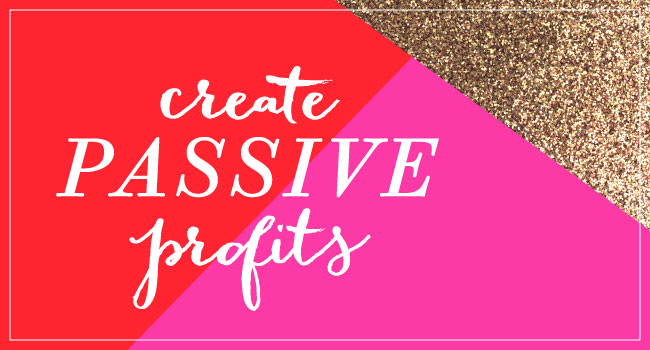 Passive income is money that's created without extensive effort, that can be re-used or resold for reoccurring income. Once it's developed, and systems are automated, you are no longer limited by time and your sales can exponentially grow with little effort. Create Passive Profits gives you the tools to work less hours and still do what you love!
Are you a creative who:
Understands the value of passive profits, but has no idea how to implement them in a creative business?
Is afraid of relying too heavily on your current clients or getting new clients for income and stability?
Finds your revenue is limited because you only have so many hours in a day?
Feels like you have more information or skills to offer the world, but can't find the time to figure it all out?
Would love a flexible schedule and more free time?
Wants to diversify your income in case you ever need time off?
---
Perhaps you are getting busier than ever before, and you are SERIOUSLY worried about sustainability. Maybe you're feeling limited in how much income you can earn in your current role and with your current offerings. Possibly you're like most of us, and feel like your true potential isn't being utilized, but you're stuck on how to start. This robust e-course will give you the ideas and tools to help you define the perfect passive income offerings FOR YOU, and walk you through the steps on how to start offering them, in just 4 weeks!

---
Would you like to:
Reduce your client dependency?
Build a healthy and more consistent cash flow?
Create endless revenue stream potential?
Use 100% of your creative potential and feel TOTALLY inspired?
Broaden your audience and cross-promotional opportunities?
Have FUN?
---
Registration for the *Early-Bird* rate for Create Passive Profits is NOW OPEN!
Snag your spot now at the EARLY-BIRD rate at just $247! Rate will go up to regular rate after this week, so snag your spot!

---
Each week, you'll get:
Comprehensive training videos for each lesson (approximately 15 – 30 minutes long, Mondays and Wednesdays)
The video lesson in on Vimeo – Mobile-friendly
Worksheets and examples to help you apply the techniques to your business
Action steps so you can get actually develop your system as you go
Teacher feedback, and fellow student feedback
---
Week 1: Smart Passive Income and How it Will Work for YOU

In the first week, you will learn all about passive income and reoccurring revenue streams. You will learn about the different types, including the two major groups, and also some little known others. You will get a great overview of all the possibilities and EXACTLY what it will mean for your business (and for you). We will get you fired up to start this new path by hitting the ground running
Week 2: Identifying Your Direction and YOUR Unique Offerings

In the second week, you will learn how to discover the direction you'd like to take your profits, and exactly how you're going to do it. I will help you identify what brings you JOY and what ignites your best work. You will learn how to identify market gaps, and what your ideal clients are looking for. You will discover the products or information THEY crave and you will fill the niche and in turn, be able to charge a premium for it.
Week 3: Focusing on Informational Offerings + Taking Action

In the third week, you will learn how all about the potential of informational offerings and how they can create massive revenue streams. I will show you how to use your expertise and smarts to leverage information that others will pay a large premium for. I will show you how to create these offerings, how to price them, and how they can be reused over and over and continually make profits. You will learn how to continue this path and keep creating amazing offerings that blow them out of the water, every time. You will learn how to effectively market your offerings for amazing results.
Week 4: Focusing on Product Offerings + Taking Action

In the fourth week, you will learn how to all about product offerings – both physical and digital. I will show you how to use your strengths and intuition to create products that people love and can't stop raving about to their friends. You will learn about resources on where to sell your products for maximum profits. You will learn what's involved in product selling and what will truly make your products stand out from all the others.
---
Design Life Project is taught by Graphic and Web Designer Cathy Olson, owner of the design studio Love-Inspired. She has over 14 years experience as a professional graphic designer, and has worked with a range of businesses – big ones like Disney, Costco, Best Buy and Walmart – to small ones like work-from-home moms, working from a desk and a laptop in the wee hours. Cathy started her own design business over 6 years ago, and in that time has helped hundreds of businesses find their authentic voice through exploration, social media, marketing, graphics, and web. She has dealt first-hand with the juggling a thriving business, being a mom to a growing family, and personal goals. She's determined to work less and play more – all while cultivating her thirst for art, helping others and using God-given talents. She's experienced in business, marketing and strategy and LOVES continually learning and teaching others to work less and make more. This class is perfect for designers, photographers, artists and creatives who want to have more free time, have a monetarily healthy and rewarding business, become independent in your business and truly help brighten others lives with your gifts.
---
---
Let's FINALLY free up your time, and work smarter to make more money with LESS effort. There is a lot of corporate information out there on passive income, but it's hard to figure out how to apply it to CREATIVE businesses. You will finally be able to identify a clear route towards developing a passive revenue stream JUST FOR YOU. You will learn how to develop the information and products that people WANT from you.
---
FREQUENTLY ASKED QUESTIONS:
I'm so busy. Can I register, but start it later when I know things will have quietened down? The course spans over 4 weeks and is very robust. Each week we will have lessons and worksheets, and you can do them in your spare time. You will also have access to the private Facebook group to bounce your ideas off of. We are packing a lot of information into 4 weeks, so you can absolutely take longer at each step if you need to. You will be able to download all the content and access the course site for at least three months after the program finishes.
What kind of teaching can I expect in the course? What's included? The Create Passive Profits e-course is content and resource rich. Enrolling in Create Passive Profits includes full access to the online classroom, video tutorials, Q&A and worksheets to identify your unique offerings, as well as access to a private Facebook group where you can connect and share with your classmates and get feedback directly from Cathy. After 4 weeks, you will have the potential to start developing your products right away.
When does the class start? Registration opens February 24, 2014! Class begins Monday March 24, 2014. You'll be able to download all content and access the course site for at least three months after the program finishes.
Does the course meet at a certain time? Does it matter what part of the world I'm in? Create Passive Profits is a virtual course, you can participate from anywhere at anytime! Lessons will be posted online throughout the week, and you can log into the course at any time to view them.
How much time can I expect to spend on the course? You'll get new content on the course site throughout the week, M-F. We'll start with a lesson, then a worksheet, some observation and testing, and then end the week with resources to explore on your own. You can expect to spend anywhere between 30 to 90 minutes reviewing the content and completing the exercises and work for the class each day, depending on the length of the lesson. Some people may work through the content more quickly, and others may want to spend more time. All the content will help you develop your personalized plan by the end of the Create Passive Profits e-course.
How are payments handled? Payment is securely processed via PayPal and can be made using your PayPal balance or credit card. Please note that all course correspondence will be sent to the email address associated with your PayPal account. To use a different email address, please forward your PayPal invoice to cathy@love-inspired.com.
Other questions? Email me at cathy@love-inspired.
---
---