3 ways to future-proof your business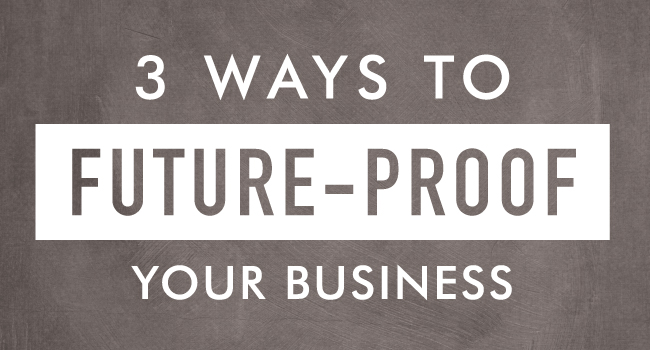 Lately, I've been thinking a LOT about the future. Entrepreneurship and running your own business can both stable and unstable at the same time.
Now, when comparing it to a 9-5 for someone else, I do think it's MORE stable. You control your destiny ultimately, after all. No one can lay you off or fire you. You control what you charge and how much you make, you control how much you work. Why then, is going out on your own (and STAYING out on your own) so scary? Why is it seen as such a big risk? I think our biggest fear of starting our own business – is the FUTURE of our business. Will people always buy what we're selling? Will we always be busy? What if what we offer goes out of style? What if what we offer becomes obsolete? I'll still argue that this can (and does) happen to a 9-5 you could be working at as well. They can get phased out as well. BUT… there are MANY successful businesses that have been around for double digit years and I think they have some knowledge of what it takes to survive. It's NOT just sitting still and keeping your head down. You have to be flexible, have lots of passion and tons of tenacity. Here's a few steps for the small business entrepreneur and how we can future-proof our businesses:
Dream, Dream, Dream
Maintaining a successful business takes ideas – and lots of them. Good ideas, and bad ideas – but it takes ideas. If you don't already have an idea book, get one. Ideas are fleeting and the good ones will leave your brain just as soon as you get distracted. Whether you're using dictation software on your phone, or an old-fashioned journal – don't trust your brain to remember. Also, don't edit your ideas and dreams. Just write them down, because they may lead to something else in the future. Dreams are the sustenance to a thriving business. They keep the business nourished, happy and healthy.
Listen to your Heart
It's imperative that your HEART is in what you do. Infuse yourself and what you love into your business. You have to have an undying passion for what you do. If you're heart WAS in it, but isn't anymore – it's time to re-evaluate what you do and maybe change it. If you don't love it, why will anyone else love it? A lot of creative brands these days are creating umbrella brands (most often self-branded) so that they can be free to follow any path that it takes them. If you develop a strong brand around YOU, you can always change things up when you change. This will ensure your heart is always in it. Not sure what you love? Fill out the YES list and see what you need to infuse into your life/business to bring in more passion.
Action speaks – Do
The best idea in the world will die if you don't take action. I'm very action oriented now (I did NOT use to be though), and it KILLS me to see dreams fly away when someone doesn't take action on them. Fear is so strong, that it holds many people back. It took me awhile to understand that fear is an emotion, to recognize, and then move on. If I let fear stop me, and I had sat by and didn't do thing I was afraid of, I might not be here (see my story if you haven't read it already). Action doesn't need to be dramatic or grandiose. It can be small, simple action. The more important principle to action is to just DO. As long as you are moving, you are moving. If you just spent 10 minutes a day on something, before you know it, you will be far on your way!
I hope this encourages you today friends. If you haven't taken the leap into entrepreneurship, or if you want to change up your business but you're afraid of change, take this to heart. I see this work every day with all kinds of businesses. Give it a go, friends!
---
Tired of trading hours for dollars? Interested in learning how to build systems to develop passive revenue streams? I'll be opening registration next week for the Create Passive Profits e-course. This session is going to be information PACKED to give you lots of options for your business, whether you are service based or product based. Make sure you're signed up for the newsletter so that you can snag your spot!