how to: the new year price increase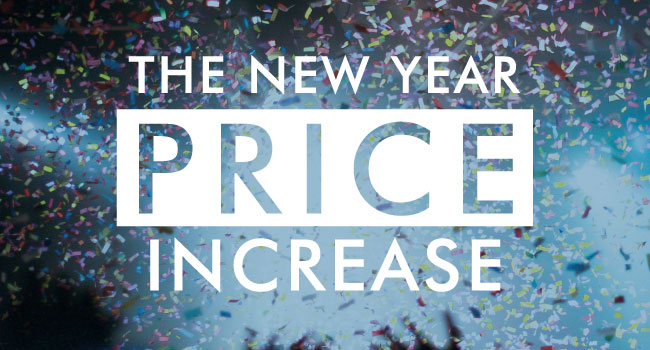 I've been hearing a lot of business owners toil over something recently, so I thought I should talk about it – the dreaded New Year price increase. In the Design Life Project e-course (registration opens Wednesday) I talk in detail about how to set your prices, when to raise them and how to raise them. One of my biggest recommendations is raising them for the New Year. It's a common business practice, as (our) costs are always rising, and the new tax year is a good split point to do so.
But what is the best way to do it? How do we let our clients know? There are a few approaches, and as every business is different – so there will be different ways to handle it.
If your business always has new (rotating) clients
This is the easiest scenario, because new clients may not be aware of your old pricing. This means updating your site to reflect your new pricing (if you have it listed), or updating any materials you send out with pricing on them. If you'd like to stimulate a little sales before you increase – send out a social media blast that your prices will be raising on a certain date, and give them one more chance on the pricing. If you have a newsletter list, this can be an easy way to do that. You could also raise your price but run a special, so that new clients don't feel like they JUST missed the boat.
If your business has old/repeating clients
This can be a bit trickier, if you have old clients who are used to your pricing. If you've had a consistent price raise – every year or 2 years – this should be just part of the routine. But what if you haven't raised your prices in awhile and you're afraid of alienating your clients? For this I'd take a softer approach. I would start to warn them, and perhaps give them more time than your new clients. You can extend their deadline a bit if you need to – but eventually you WILL need to raise their prices too. If they love you and they know you're worth it – you won't lose them. Don't let them take advantage of you or drag out special rates. You've got to make a living and they should be understanding of that. There is a reason you're raising your prices in the first place, whether it be to make more money to support yourself & family, or to free up your schedule more – and they aren't exempt from that reason.
There is also another way to increase your prices that I'd like to mention – without making it so obvious:
Package restructuring
Another way to increase your prices is through package restructuring. Develop new packages that are worth more or include more value for a higher price. You can even add a simple item to a current package, and raise the price on that. Think about adding VALUE – it could be an extra service that doesn't cost you more, but gives them a more white glove version of your service. This could also mean dropping your smallest packages from your offering. You can always include a la carte items if you wish.
So how do I know HOW much to increase it for the New Year?
For how much to increase it – it depends on how far off your 2013 prices were form what they SHOULD be (see another post I wrote about your true worth and the pricing balance). I also have a specific formula I talk about in the Design Life Project e-course on calculating EXACTLY how much you should be charging. The main idea is deciding what you want to make in a year and backtracking from there. If you figure out you are charging WAY too little – a huge jump may scare everyone off. In that case, I'd recommend a quarterly increase to where you need to be. If you're not too far off, and if business is good – I say just go for it. I use my current workload to also dictate how much to increase my prices. If I'm super busy and booking far in advance – I will probably do a higher jump for the next year. If business has been steady – the raise reflects that accordingly.
As always, use your intuition when setting prices, and then add a little more. The number should probably make you a *bit* uncomfortable, but not *too* uncomfortable. If you feel totally comfortable, it probably needs to be a bit higher. You will most likely devalue yourself when something comes easily to you. It's not about what YOU would pay for it – it's what someone would pay YOU for your expertise!
Happy price increasing!!
---
Happy Friday to all of you! Wishing you a fantastic LONG weekend! I'm so excited for WEDNESDAY! I'll be opening registration for the Design Life Project e-course. Our last session was nothing short of AMAZING and I'm so excited for the New Year's edition of this course. We are going to have a wonderful 5 weeks together and we are going to grow SO much! I'm super excited. We are purposefully keeping this first class small and intimate, so make sure you're signed up for the newsletter (sign up in the sidebar on the left to be reminded when registration opens NEXT WEDNESDAY, January 15th and you can snag your spot!